web hosting
eurosolutions.net offers you hosting for your website on state-of-the-art Linux based servers located in the south-western US and Eastern Canada.
We offer you different ready-made packages to choose from. You can find a table with the different packages below.
If you have any questions or special requirements, feel free to contact us (for your convenience, we speak English, German and French).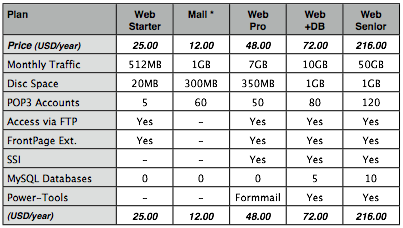 * The Plan Mail is only for sending and receiving e-mail. No web space is available to host a website.
All Plans include:
✓ Ensim Control Panel;
✓ daily statistics and backup;
✓ php/perl support;
✓ DNS management;
✓ annual uptime better than 99.5%;
✓ support 24/;
✓ AntiVirus and Spam filtering;
✓ SquirrelMail Webmail access;
✓ Catch-all;
✓ Outlook Support;
✓ unlimited: e-mail aliases, email forwarding, auto-responders, and mailing lists
Additional services:
Extra bandwidth:
1 GB …. 2 USD/month
Extra disc space:
200 MB …. 1 USD/month
30 e-mail accounts - 3 USD/month
domain name registration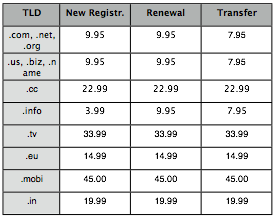 For more information about our domain registration service and to buy, transfer or renew a domain name please visit
domains @ eurosolutions.